Last month, we headed to the California desert for our annual Kickoff/Retreat. Converging in Rancho Mirage at 10am Friday morning, CEO Brian Fischbein kicked the weekend off with his customary State of the Union address. This year, the emphasis was on bouncing back from losses and starting 2016 fresh – enter Crescent 2.0.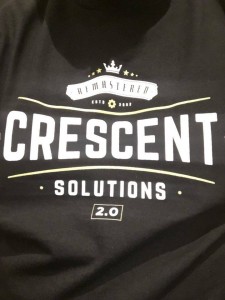 At it's core, Crescent 2.0 is a new generation of staff employees driving the same ideals that the company was founded on, with an emphasis on growth, professionalism, subject matter expertise, urgency, accuracy, follow through, and a focus on client relationships.
After a group discussion around these ideals, our CEO took a moment to acknowledge those who exhibited exemplary work in 2015. Those awarded were:
Francis Salenga – December Recruiter of the Month
Brian Albano – Salesperson of the Year
Dave Etnire – Recruiter of the Year
Brandon Barnett – Operations Person of the Year
Mona Smolenak – Rookie of the Year
President's Club:
SALES
Michael Chiang
Brian Albano
Brian Burns
Steve Mitchell
Brian Batistic
Eric Kinsey
RECRUITING
Dave Etnire
Chad Harris
Derek Berger
Rich Kahn
Francis Salenga
Mike French
After a lunch break, presentations continued with COO Bob Steuernagel reviewing financial highlights for 2015 and goals for 2016, VP Brian Albano discussing Sales, and Executive Director Michael Chiang breaking down "The Art of the Close." Next, we divided into three teams and had a good old fashioned bridge building competition.
 (Winning Structure)
With this victory in the books, the team officially wrapped for the day and hopped in the pool. (Did I mention we were in the California desert?!) J Dance battles were had, corn hole was played, food was consumed, and laughs were heard for miles and miles for the rest of the night.
Rising Saturday morning in our beautiful oasis, we enjoyed breakfast together before finishing up the kickoff presentations. HR/Payroll Manager, Jenn Espinoza, provided clarification around Benefits and Human Resource Initiatives for Internal and Field personnel, and Managing Director of Crescent Creative, Brian Burns, gave us a detailed overview of his division.
We closed out the day with "Crescent Feud." Prior to Retreat, Bob sent out a questionnaire to gather employee's opinions of their job and the company as a whole. These answers birthed "Crescent Feud." For this, we were separated into the same three teams used the previous day, but each of those groups were divided in half – resulting in 6 teams total. Questions were displayed via projector and after each answer was given, Bob would say, "Survey says?!" followed by a DING! if you were correct, or a big red X followed by an "EHHHHHH! Ouch" if you were wrong.
With the work and activity portion of the weekend officially over, we got the rest of the afternoon to ourselves. Some of us took this time for a hike, while others soaked up a little more sunshine by the pool, played corn hole, and relaxed.
Perfect ending to a fun and successful weekend.
Sunday morning, we bid adieu to the resort and headed back home.
Til' next year!