This holiday season, Crescent Solutions sponsored a family of 3 through the Miracles for Kids Foundation. This means that we were
matched with a family with one or more critically-ill children to care for.
The Mancera Family has 2 children, one boy and one girl. The daughter, Guadalupe, who is now 14 years old was born with liver issues and developed cirrhosis after receiving a liver transplant. Guadalupe's father abandoned her and her younger brother leaving their mother to support the family on her own. Guadalupe was teased at school resulting in her taking out her G-tube to avoid being bullied. She and her family are able to keep their small apartment in Santa Ana thanks to the Miracles for Kids Foundation.
Crescent came together to collectively donate $400 towards buying Christmas gifts for each child and a gift card for their mother. With our contributions combined, Crescent was able to get everything listed on the Mancera family's Christmas list plus some extra gifts as well. Fluffy blankets, a giant stuffed-animal and some fun family games were just a few of the gifts Crescent was able to provide for the family.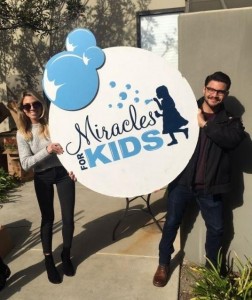 Last month, a few of our employees volunteered to deliver the gifts to the family along with boxes of food and cleaning supplies. They were so excited to be receiving gifts this year and Crescent was glad to be able to help make this holiday season one to remember for the Mancera family.
To learn more about the Miracles for Kids Foundation, visit https://miraclesforkids.org/.