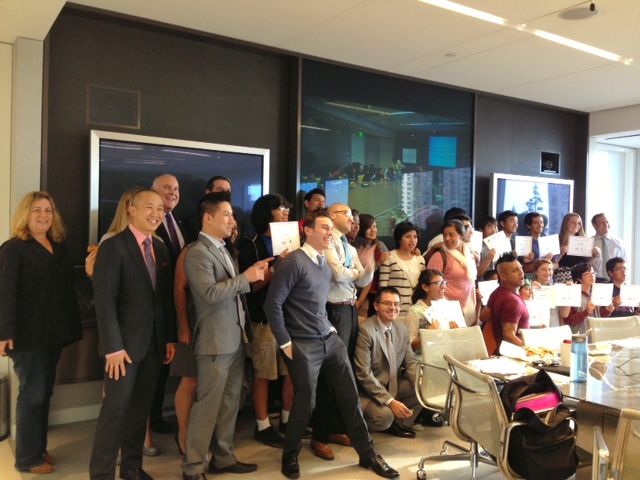 Congratulations to our STEAM students! The high school teens from the nonprofit organizations, Fulfillment Fund and Communities in Schools Los Angeles, graduated from the STEAM program we designed with our partner CAA Foundation. Over a number of workshops and seminars this year, the students were given the chance for a more hands-on approach to learning tech tools such as HTML and coding as well as getting a rare glimpse into their potential futures in STEM (Science, Technology, Engineering, and Mathematics) through inspirational talks from leaders in the field.
During the graduation ceremony at CAA's theater, we added another crucial element to the program—Arts—to STEM, updating the acronym to "STEAM." After all, science and art complement each other, especially in this digital age. Michael Keithley, the CIO of CAA and founder of this program, as well as Michael Chiang, Crescent Solutions' Regional Director, kick-started the event by each giving inspirational talks to the students. Chiang thanked Fulfillment Fund and Communities in Schools Los Angeles programs to allow for his company's involvement with STEAM, and discussed his passion and personal involvement in the programs. Keithley pointed out there aren't enough people who know how to code and program, and the students would be in high demand in the workforce if they followed in this STEAM path.
"We launched this workshop program because we wanted to encourage students to challenge themselves and learn something they didn't think would be possible—to inspire them and give them hope that they could learn the skills necessary to participate in the digital economy," said Keithley. "We want to prepare more students for the best jobs of the future and STEAM skills are a central element of a well-rounded education and essential to job security in the 21st century."
After the talks, students were given some colorful demonstrations of how STEAM can be applied to the arts. Brent Bushnell, an engineer from Two Bit Circus—a Los Angeles-based creative think tank that has created unique and fun projects for the likes of band OK Go for their mousetrap-esque music video—was one of the speakers at the graduation. They've been building high-tech games for a futuristic carnival, called STEAM Carnival, which will be touring through Los Angeles and San Francisco next spring to get kids interested in STEAM. STEAM Carnival's mission statement on the website rings true, as it says, "Through years of building and demonstrating fun games we've learned no better way to get kids into STEAM than to show them an amazing time. When you say 'engineering' to most kids they zone out. But when you say 'lasers, robots, and fire,' you have their undivided attention."
DJ Ravidrums, another special guest at the event, showed the teens how they could use STEAM in music. He performed through his unique virtual DJ equipment, the Dream Screen 3000, a see-through touch screen setup he compared to the film Minority Report. In conjunction with the futuristic DJ'ing, he also pounded his special electronic drum set-up surrounding him. He discussed the technology involved in creating his screen and how he first used it when he worked with Paula Abdul. The students were excited by the demonstration, chanting "encore" repeatedly, and then getting a chance to play with his DJ equipment.
The students' responses were effusive at the graduation. Two students came up to the front of the theater to give thanks to everyone involved in making it possible for them. One of them, the captain of his track team, is working on starting a coding club at his school in Venice Beach next year because he felt inspired by the program.
Ivan Bermudez, an IT Executive at CAA and a seminal architect of these workshops, has been putting forth a great deal of effort in planning these events along with Crescent Solutions' Director of Operations, Stephanie Le. They've not only been organizing the bus rides for these students to get to the workshops, but have been reaching out to the guest speakers and teachers (including Coder Dojo Los Angeles), organizing the entertainment, and providing the refreshments. It's a project from the heart.
Bermudez pointed out last year's program entailed more motivational speakers, but when they switched gears to a more hands-on approach to learning this year, the feedback was "overwhelming," he said. In one workshop, 62 students were each provided with a laptop, and through the instructions by Shara Karasic and Una Fox of Coder Dojo Los Angeles, they developed their own personal websites using HTML. "One student told me, 'Mr. Bermudez, I cannot wait for the next coding workshop, I don't want to leave today,'" he said.
"I want to motivate students to believe in themselves and that anything is possible regardless of where you come from," Bermudez added. "You don't need a guitar to be a rock star—a computer will do. My hope in this program is to break the stereotypes of those who seek STEAM education as the nerdy geeks in a school. I hope to inspire those who participate in our program to get excited to work in STEAM."